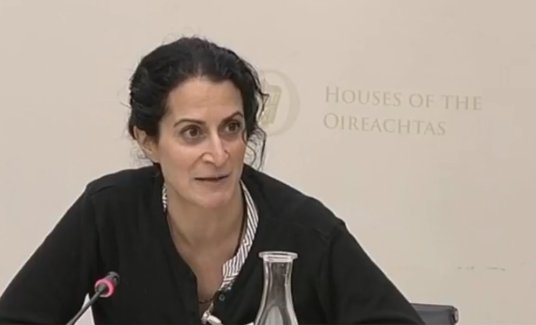 On January 29, 2018, the Irish government announced that it will hold a referendum on the provision of the Constitutions which limits abortion access.  In deciding this, it took into consideration the recommendations issued on December 20 by the  Joint Committee of the Irish Parliament (the Oireachtas).
Ireland has one of the most restrictive abortion law regimes in the world, only allowing abortion in cases of risk to a woman's life. The Joint Committee on the Eighth Amendment of the Constitution was formed to review the  Citizens' Assembly recommendations calling for constitutional reform of Article 40.3.3 (the Eighth Amendment) which guarantees an equal right to life of the "unborn" as to a pregnant woman.   The Eighth Amendment was inserted in the Constitution in 1983, after a bitterly contested referendum.  The intent of the Amendment was to halt the wave of liberalization of European and US abortion laws from hitting Ireland. An Amnesty International report shows how the Eighth Amendment fundamentally shaped the restrictive scope and content of Ireland's abortion law and the quality of care received by all pregnant women and girls, not just women seeking abortion.
For three months in autumn, 2017, the Joint Committee assessed the Citizens' Assembly recommendations and heard from scores of witnesses, including myself. I provided expert testimony on the impact of the Eighth Amendment on women and girls, the human rights violations resulting from such a draconian legal framework, and the practical reality that thousands of women from Ireland are accessing abortion either by travelling overseas or purchasing the abortion pill online.  As a result of this process, the Joint Committee recommended repeal of the Eighth Amendment, to align Ireland's abortion law with human rights obligations and the laws of other European countries.  These recommendations will also guide the government in drafting a referendum proposal that will go to the people.
The Joint Committee's recommendations include ensuring abortion on request in the first 12 weeks of gestation, and beyond 12 weeks for fatal fetal impairment, life and health, including mental and physical health.  They recognized that medical decisions are best made in a clinical setting, not by a legislature.  While most recommendations align with women's and girls' health care needs, human rights norms and the laws of other European countries, others do not–such as recommendations which do not recognize the need to allow on abortion on grounds of rape beyond 12 weeks gestation and which explicitly disallow abortion on grounds of severe fetal impairment.
The Joint Committee also made important ancillary recommendations which would prevent unwanted pregnancies and ensure quality of care to all pregnant women.  They include decriminalization of abortion (to reduce the chilling and stigmatic effect that criminal law has on provision of health care to all pregnant women), robust, evidence-based sex education, free access to contraception, equal access to high standards of obstetric care regardless of geography or socio-economic status, and improvements to counselling and support facilities surrounding pregnancy and abortion.
The government. in announcing the referendum. decided wording that effectively repeals the Eighth Amendment. It also announced that Minister for Health will prepare legislation in line with the Joint Oireachtas Committee's recommendations on abortion access, which includes a 12-week "on request" period for abortion access.
This is a significant step for Ireland, where the abortion debate raged for decades with little government response until 2012, when the tragic and unnecessary death of Savita Halappanavar provoked large public protests.  Her death was due, in part, to the Eighth Amendment's role in the clinical decision not to provide her with appropriate care during miscarriage.  This tragic case, combined with a judgment from the European Court of Human Rights in A, B and C v Ireland (2010), which had found Ireland in violation of the European Convention for lack of legal clarity on risk to life, the only ground on which women can access abortion,  the Protection of Life During Pregnancy Act (PLDPA) was passed in 2013.  This PLDPA replaced the 1861 Offences against Persons Act, a complete ban on abortion penalized by lifetime imprisonment.  Over 150 years later, the new law was limited by the Eighth Amendment and the Supreme Court's interpretation (in Attorney General v. X (1992)) that the Constitution only permitted abortion where there is a "real and substantial risk to the life, as opposed to the health, of the mother."  Within these confines, the 2013 law offers surprisingly little clarity on allowable circumstances and places formidable barriers, including multiple provider authorizations, to exercising the "life" exemption from criminal prosecution.  It continues to impose a criminal penalty on abortion: 14 years imprisonment.
The reformed law has changed nothing; every day, 10-12 women or girls travel from Ireland to England for an abortion.  These may include victims of rape, schoolgirls, women who cannot afford to have another child and those faced with fatal fetal diagnoses.  These women travel because they cannot access safe and legal abortion in Ireland.  Meanwhile, marginalized women, such as migrants, asylum seekers or impoverished women, are trapped in Ireland, unable to access abortion by travel.  For all these women and girls, their human rights are being violated, as criticized by international and regional bodies for over 20 years, most recently by the UN Human Rights Committee in Mellet v Ireland (2016) and Whelan v Ireland (2017)
Ireland's draconian abortion law is part of its notorious history of strict punitive social controls over female sexuality, both in law and in practice, amid the socio-religious stigma that drove women and girls to the infamous "mother and child homes" or "Magdalene Laundries," and subjected pregnant women to the medical practice of Symphysiotomy during childbirth.  It's about time that such abuses and human rights violations are not only prevented from happening in the future but that the State recognized its role in this wrongdoing.
Christina Zampas provided expert testimony on international human rights standards related to abortion to the Joint Committee on the Eighth Amendment to the Constitution on October 4, 2017.